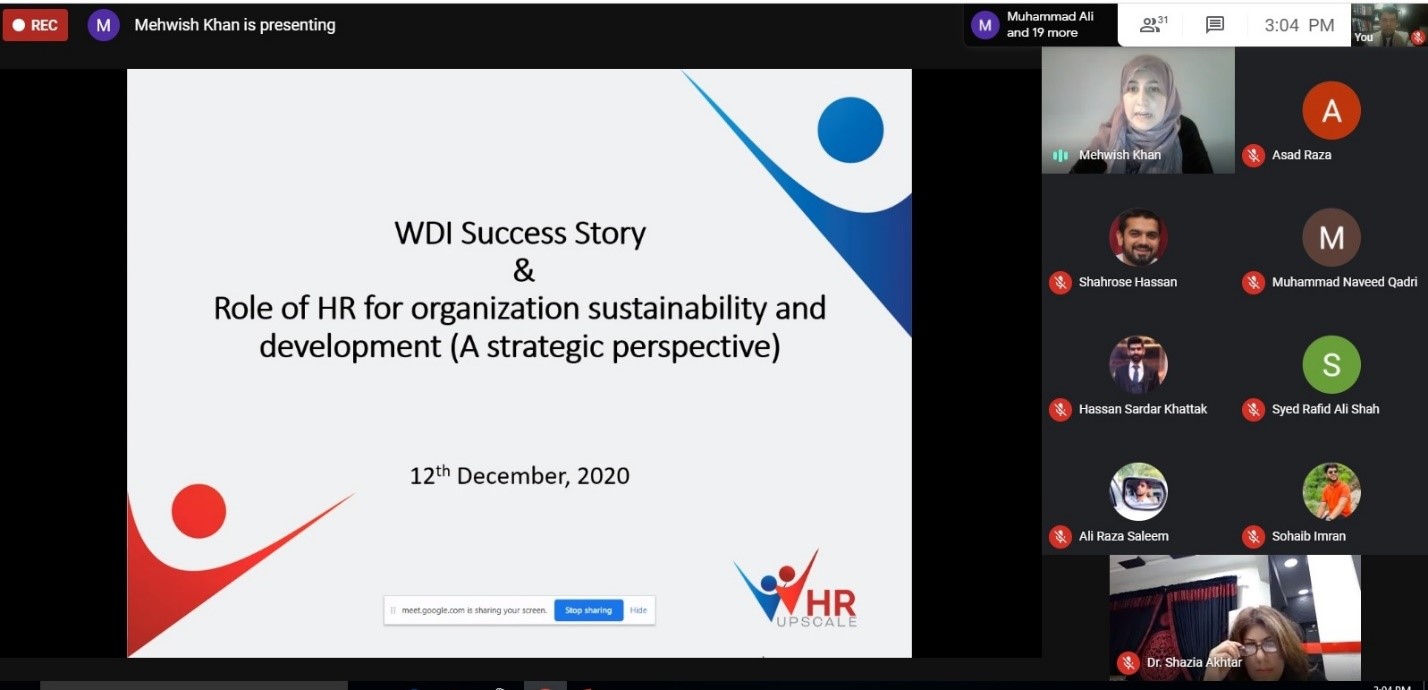 Emphasis on giving maximum practical exposure for MBA students while they learn through their ongoing semester, a specific webinar was arranged on 12th December 2020 through google meet. The topic of the webinar was "HRM – Traditional or Strategic View" featuring a focused discussion on the role of HR as a strategic component within any organization. Guest Speaker Ms. Mehwish Naseem Khan joined the webinar from the UK. Mehwish is a chartered MCIPD, MSc. & MBA from London school of economics, UK and Bharia University Pakistan respectively. She is CEO of HR upscale Ltd.
An active member of the chartered institute of personal development and a voluntary enterprise adviser, CIPD. She has experience of 12 years including international experience in strategic HR Roles, managerial positions, and generalist roles across multiple countries such as UAE and Pakistan. Moreover global supporting role for KSA, Oman, Kuwait, Iraq, Algeria, Egypt, and Latin America.
She has practical exposure in managing recruitment, organization, and planning, leadership programs implementation, employee retention, succession planning, staff development, conflict resolution. Before founding HR Upscale limited she served Weatherford Drilling International.
The topic gained a lot of attention from different semesters of the MBA program at SZABIST Islamabad and the webinar got maximum participation of around 70 students. It was an interactive session which was moderated by Dr. Shazia Akhter – Associate professor and program manager for the MBA program at SZABIST Islamabad and the webinar was organized by Shoaib Farooqui – Visiting Faculty for the MBA program at SZABIST Islamabad.
The students asked a lot of interesting questions covering a broader spectrum of managing HR during COVID 19 times, retention of employees, organizational culture,
and motivating employees. Mehwish shared her experiences while she answered questions from the audience. The key takeaway from the webinar is that the role of HR in the post-COVID 19 scenarios gained a lot of importance as people like to discuss their issues and at the same time organizational leadership sits with HR in interacting with people.
Mehwish emphasized continuous learning for everyone in this very dynamic world.