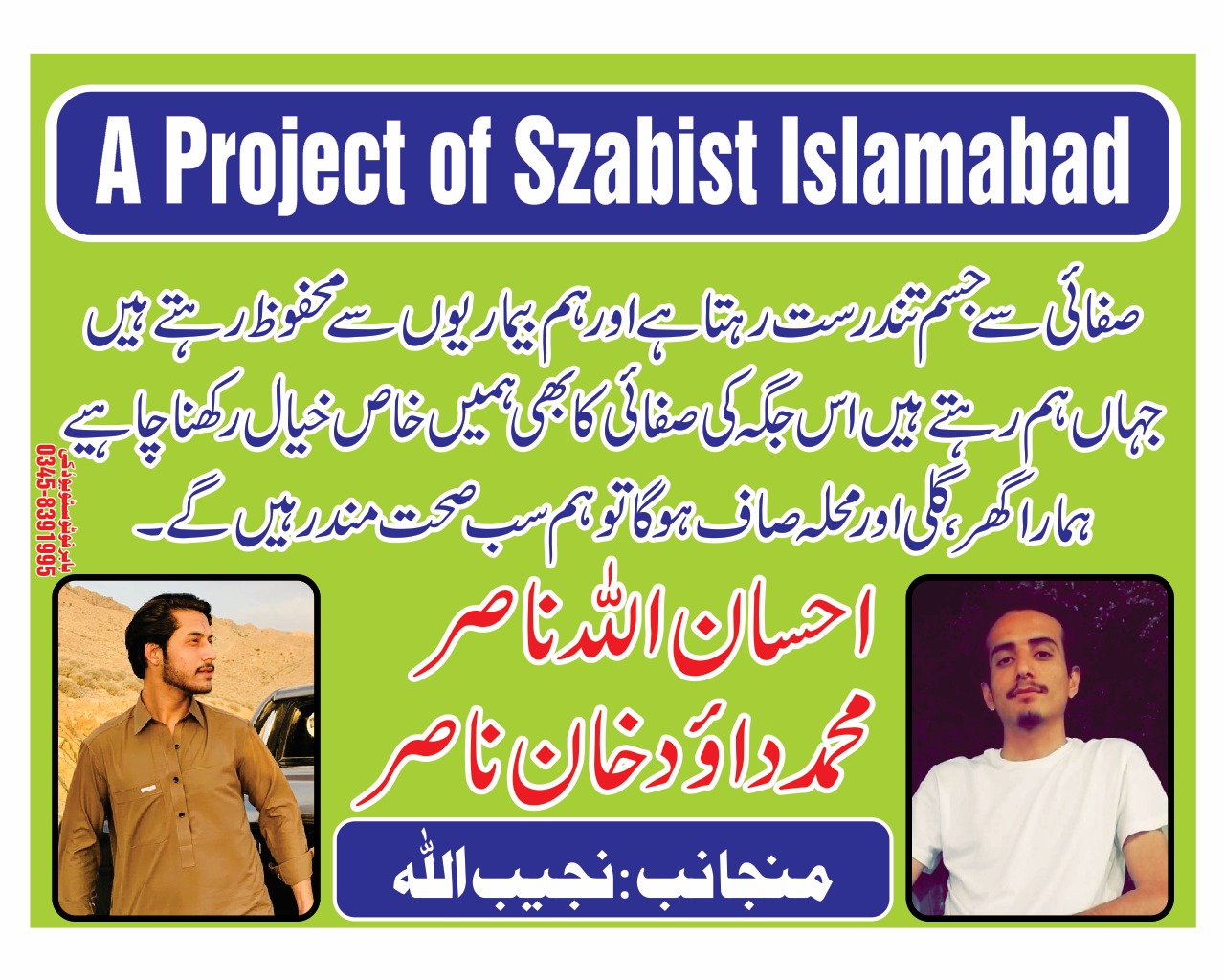 On Account of World Environment Day 2021, the students of BSSS 1 (Community Services) – SZABIST Islamabad campus joined hands under the guidance of Miss Sana Mukhtar (department of Social Sciences) to commemorate this day with the theme of "Ecosystem Restoration". A total of 4 projects are completed.
First project "Clean Community is a Healthy Community" in district Duki – Balochistan  is initiated by Dawood and Ehsan Ullah in collaboration of  local political leadership and philanthropist. An awareness campaign followed by cleaning drive of streets and market areas has been run under this campaign. This was first ever campaign in the district which is led by the student of any university.  By running this campaign, a precedent has been set for the local community, influential and duty bearers to support such environment related matters in remote district of Balochistan.
The second project was an online mass awareness campaign with title of "Pakeezgi". The campaign is led by Fizza, Basma (Semester 1) and Ubaid Ali (Semester 7). The social media platform has been utilized to create mass awareness.  This online campaign was widely appreciated by the online community.
Third Project "Plant trees for a better world" is implemented in Sector I-17 of Islamabad. This project is led by  Nasir Ali. Plantation activity has been conducted in the area by involving local volunteers and the management of the housing society.
Fourth Project "Clean and Green Gilgit Baltistan" is run in Hunza – Gilgit Baltistan. This project is led by Salaar Baig, Sami Ahmed, Wajeeha Zahra and Rubina for preventing soil erosion and to keep environment clean of the areas. The forest department of Hunza have been partnered to run this initiative. A total of 200 plants have been planted with the support of volunteers, local community members and government line department.
The students of "Community Services" will continue and expand their "Environment Friendly" activities in future in collaboration with stakeholders to keep our earth clean, green and safe for humanity.