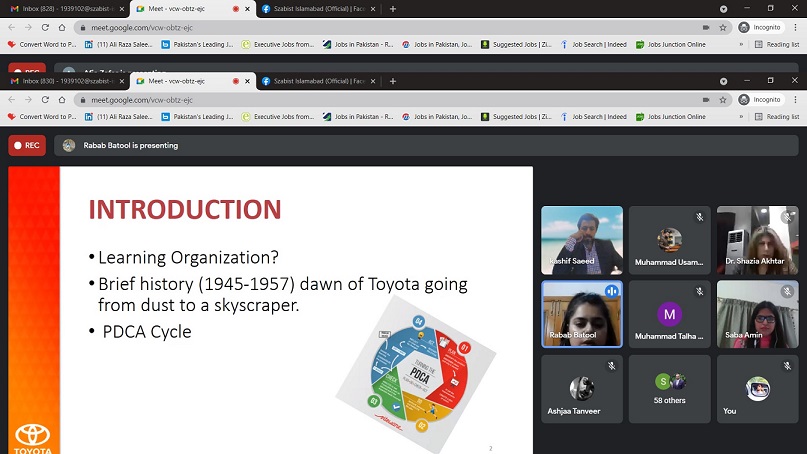 The SZABIST Islamabad Inter-Class Indigenous Case Study Writing Competition  for MBA Program Students.
The indigenous case study writing competition was held on 4thjune 2021 for the MBA program students at SZABIST-Islamabad, mentored by Dr. ShaziaAkhtar(Associate Professor and Program Manager of MBA-SZABIST Islamabad) and Dr. Fatima Ashraf(Assistant Professor-SZABIST Islamabad). One of its kind, the competition was orchestrated by Ali RazaSaleem (MBA-72) and hosted by M. UsamaUsmani (MBA-36)
The session started with welcome remarks by M. UsmanUsmani, who welcomed all the audience, distinguished academicians, and honorable Event Judge Mr. Muhammad Kashif(Assistant Professor – GIFT University). He implored the external audience to feel at home. Following the welcoming remarks, opening-briefing was given by the Program manager of MBA Dr. ShaziaAkhtar. In total, twelve groups comprising of 45+ students of the MBA, MSMS, and Ph.D. programs participated and presented remarkable analyses on their respected case studies. Out of those groups, the team of TalhaQureshi (MBA-72), AshjaaTanveer (MBA-72), Zahra Aslam (MBA-72), Ali RazaSaleem (MBA-72), and MaheenJaved (MBA-72) won the competition and held the first position. The second position holders were the groups of Maria Akhtar (MSMS)-Team Lead and AfiaZafar (MBA-36)-Team. Furthermore, the third position holders were the groups of Ali Ashiq (Ph.D. program)-Team Lead and AsadRaza (MBA-36)-Team. The event came to an end by the closing remarks of prestigious Event Judge, Mr. Muhammad Kashif (Assistant Professor-GIFT University) where he stated, after careful evaluation of the case study writing and presentations, that there has been tremendous improvement in the in-depth analysis of cases, critical evaluation of scenarios, solution-oriented approaches, theoretical-practical linkages, and presentation skills. Furthermore, he  thankedDr. ShaziaAkhtar(Associate Professor and Program Manager of MBA-SZABIST Islamabad) for making him a part of this competition and appreciated the event organizer, Ali RazaSaleem(MBA-72), for designing an even better-organized event where presenters kept their time and everything concluded effectively in an efficient manner. ). It is pertinent to highlight that Case Study Pedagogy is an important part of an MBA program; therefore, lots of focus has been given to the critical writing of business cases and their presentation to accelerate experiential learning, based on case analysis. The case study competition is an endeavor in this direction and, hopefully, we will be able to create a healthy research culture and our indigenous case studies will be published in international journals of repute.