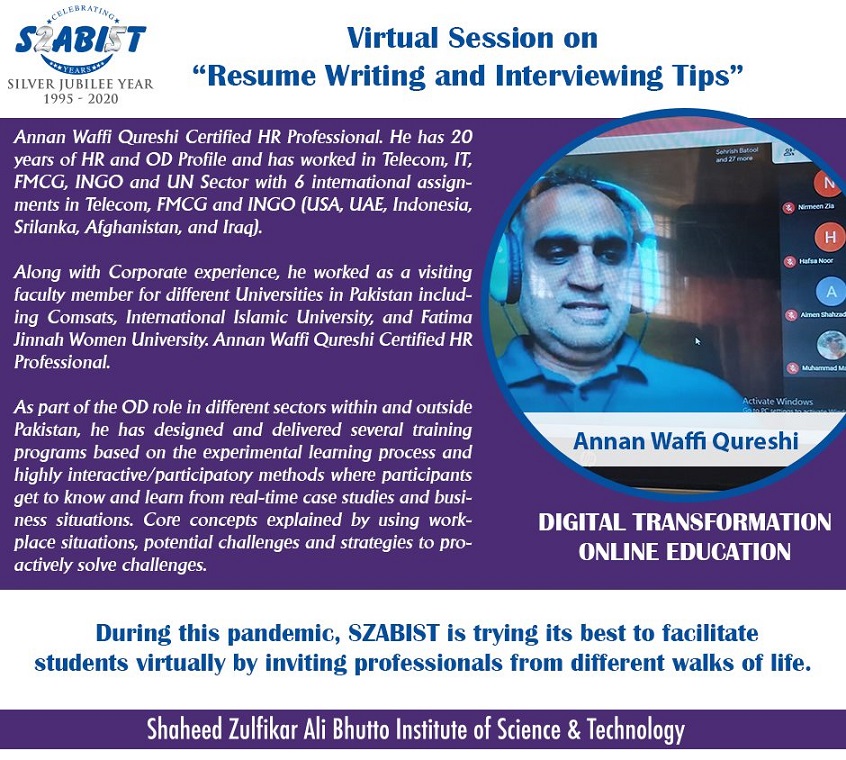 On 15th April 2020, a virtual session was arranged for the students of Organizational Psychology on "Resume Writing and Interviewing Tips" by Miss Sana Mukhtar, Lecturer Social Sciences.
Guest Speaker, Mr. Annan Sohail with diverse experience in the field of HR presented the following tips to students for effective resume writing and interviewing skills.
• An engaging resume represents competencies, talent, and passion.
• Portray the university projects in resume.
• Do not apply for every vacant position. Apply to positions aligned with your degree, projects, passion, interest, future goals.
• Get enough hands-on experience through internships and volunteer work.
• Preparation before an interview is key to success. Go through the employer's website, get market intelligence about the company, its culture, values, product, customers, etc.
• Practice the most common worldwide interviewing technique, STAR (Situation, Task, Actions, and Results).
• Relate your experience with the STAR technique. What was the situation, what tasks were executed, what actions were taken and what the result was?.
• Use your free time to learn new skills, attend online training programs. Doing extra miles makes your profile stand out.
• Go out, make business contacts, and expand your network.
• Find a mentor from industry and seek advice.