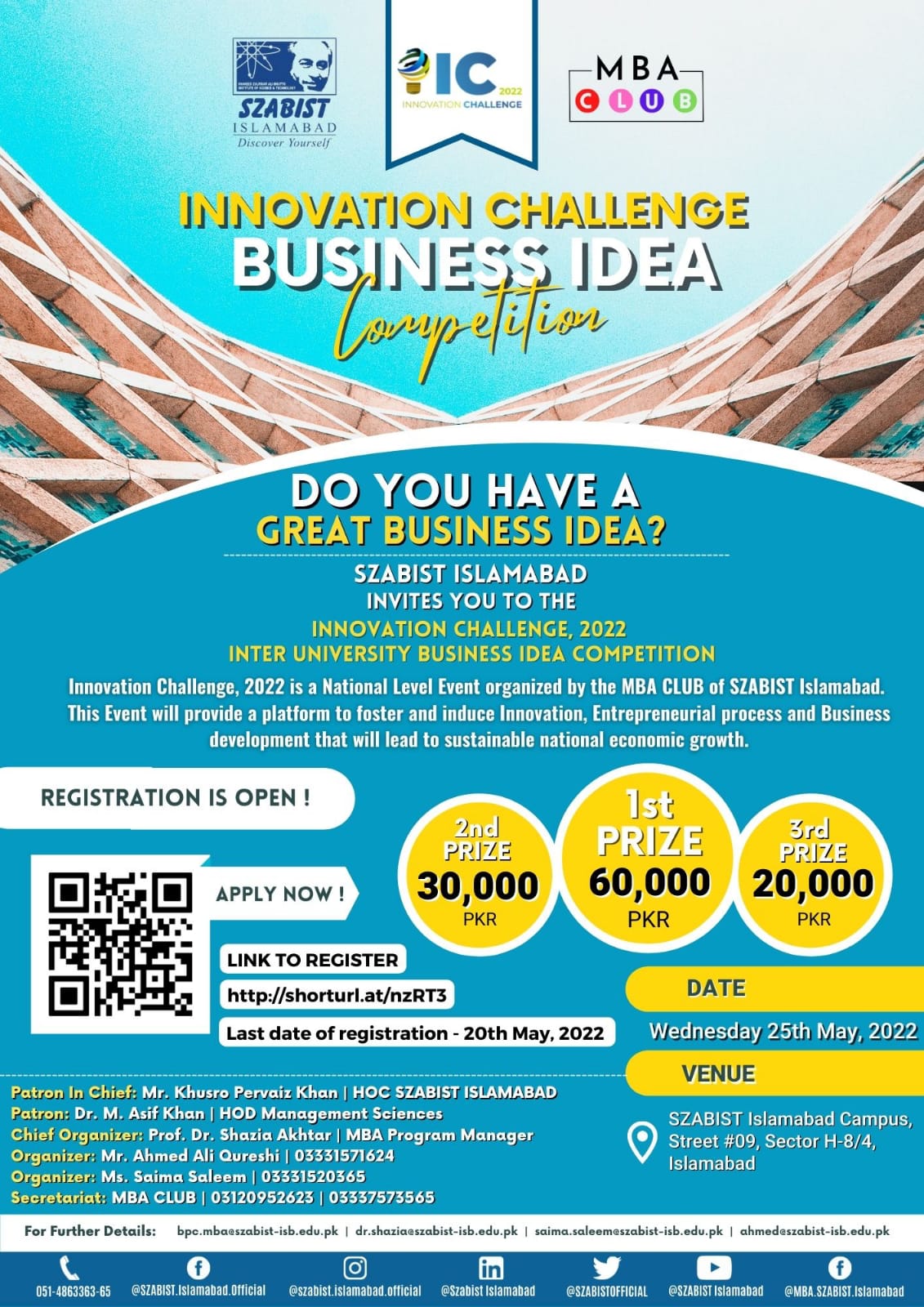 In pursuit of elevating the national economy of the country by providing competent and skilled business professionals- MBA Department seeks to cultivate a culture of experiential learning that internalizes research & analysis, critical thinking, and innovation in the student body. Hence, in light of this vision, the department is organizing an inter-university business plan competition scheduled on 25th May 2022 at SZABIST, Islamabad campus.
The prime objective of this competition is to stimulate healthy competitive spirit that will foster intellectual, academic, social and professional excellence in the students. Surely, start-ups are imperative for mobility of our youth at the national economic stratosphere. Thus, Innovation Challenge 2022 will serve as a meaningful opportunity to enhance business acumen of the participants. It will invariably propagate skills of: team-building, leadership, communication, creativity, innovation and problem-solving.
The winning teams will be awarded a cash prize of Rs, 60,000 as first prize, Rs 30,000 as second and Rs, 20,000 as third prize.
It is hoped that this competition will bring recognition to bright future leaders of the country.
Kindly register yourself at the given link:
http://shorturl.at/nzRT3   or Scan a Code mentioned in the poster
Szabist Islamabad eagerly looks forward to your participation at Innovation Challenge 2022. In case of any queries, please feel free to contact us.
Prof. Dr. Shazia Akhtar                                                                        
PM-MBA/Chief Organizer
+92 334 5335479
Ms. Saima Saleem
Organizer
+92 333 1520365