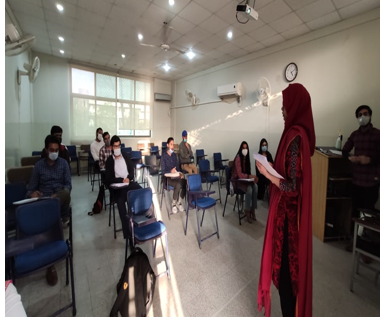 The workshop on 'Research Gap Identification' was held at Shaheed Zulfiqar Ali Bhutto Institute of Science and Technology for the students of MBA on 9th march 2021. It was an interactive session by Ms. Sundas Azeem who was the resource person and permanent faculty at SZABIST Islamabad. The Program Manager of MBA Dr.Shazia Akhtar introduced the Resource Person and the purpose of the workshop which was part of the series of workshops to improve the overall quality of research of MBA students.  The workshop main focus was to set a direction for the students and bring light to the initial steps that are involved in undertaking any Research.
The workshop started off discussing where to actually begin your Research: what should be done and what should be avoided right from the beginning. The concept of Research Gap Identification was introduced and was further elaborated through the reliable sources of Gap Identification that helped to identify the gap. Some important themes of the workshop were
Counterintuitive Argument
New Perspective
Future Research directions of existing paper
See a problem around you? What does study say about it?
Meta-analysis
In the end a question/answer session was conducted where students asked their queries regarding the topic of discussion. Some of the question that were asked are stated below:
If there is a research area that has not been touched upon for quite some time i.e. last research 10 years ago in 2010. Could it be identified as a research gap that could be taken in to account for thesis?
The area of Digital Marketing has not made much progress research wise in Pakistan. Would it be a good area to find a Research gap in?
How important is it to correctly identify the Research gap? What consequences would it carry if a mistake is made?
How much time should one take on Gap Identification?
In all, it was a very informative session which was much appreciated by the students. It cleared up many confusions in the minds of the student and gave them a sense of direction in identifying what possible areas can be researched on through Research Gap Identification.