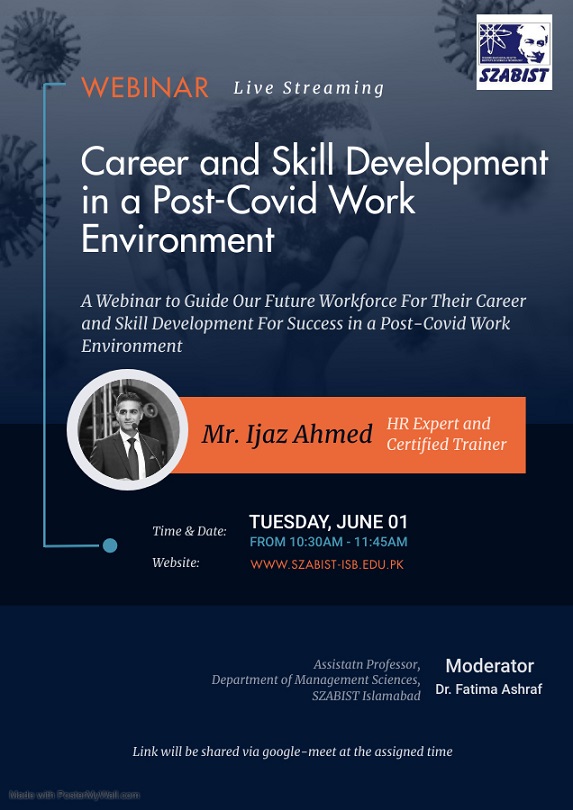 Webinar on 'Career and Skills Development in a post-Covid work environment'
Department of Management Sciences, SZABIST Islamabad
The Coronavirus pandemic has disrupted organizations and brought fundamental implications for career and skills development as it accelerates the Fourth Industrial Revolution. Future business and HR managers need to think differently about the skills and talents they need to acquire to adjust to the new-normal work environment that has redefined future career success.
To guide our future work force for their career and skills development for success in a post-Covid work environment, a webinar on 'Career and Skills Development in a post-Covid work environment' was arranged for students of BBA. BSAF, MBA.  Mr. Ijaz Ahmed, a seasoned HR expert and certified trainer shared his valuable insights on the subject. Mr. Ijaz's last appointment was as the Chief Human Resource Officer at Khushhali Microfinance Bank Limited (KMBL), the largest and awarded the best microfinance Bank in the country. He possesses a vast depth of experience and expertise across many areas of HR, while his professional competencies include change & culture management, business process improvement, policies & procedures, stakeholder management, strategic HR and customer-centric approach. Approximately 90 participants comprising majorly of students and some faculty members attended the webinar
Date: June 1, 2021 at 1030 am – 1145 am.
Mode: Google meet.
Moderator: Dr. Fatima Ashraf
Assistant Professor, Department of Management Sciences, SZABIST Islamabad
Speaker: Mr. Ijaz Ahmed
HR Expert and Certified Trainer