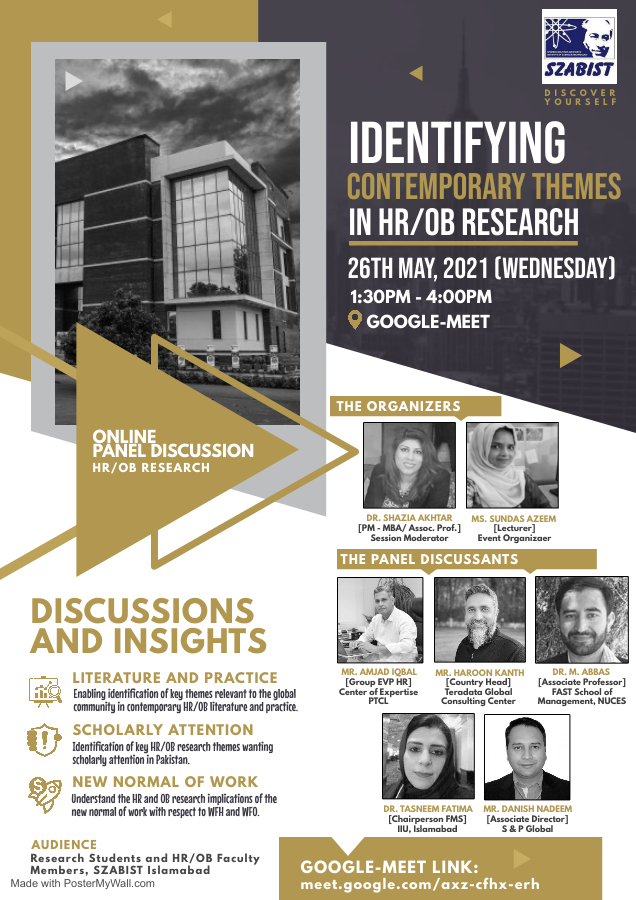 The HR Plex at SZABIST, Islamabad highlights the role of the HR function and of HR and OB research in motivating, inspiring and adopting change in the rapidly evolving workplace.  It arranges research workshops, panel discussions, mock interview sessions, and guest lectures to provide undergraduate and graduate students opportunities to engage in experiential experiences.
On Wednesday, May 26th, 2021, the HR Plex arranged a panel discussion among experts from the academia and the corporate sector in order to discuss recent themes in HR and OB research, the challenges stemming from the new normal of work and the possibility of shifting towards alternate work arrangement (WFH/ partial WFO  arrangements) in the near future.
The online panel discussion was moderated by Dr. Shazia Akhter and organized by Ms. Sundas Azeem. The discussion panel included Dr. Muhammad Abbas (FAST-NUCES, Islamabad) and Dr. Tasneem Fatima (International Islamic University, Islamabad) from the academia, and Mr. Amjad Iqbal (PTCL & Ufone), Mr. Haroon Kanth (Teradata, Pakistan), and Mr. Danish Nadeem (S&P Global) from the corporate sector.
Mr. Amjad Iqbal discussed the initial response to the COVID-19 WFH arrangement at his employing organization. He also emphasized the need of structured communication and of the need to channel information through the right channels in times that involve speculations, invoke anxiety, and demand changes to the work setting. He also emphasized the need to study and develop individual resilience and to re-structure work accordingly.
Dr. Muhammad Abbas emphasized the need to study individual differences in response to changing work settings, work-family conflict, productivity and management facilitation and flexibility that add to productivity while working from home. He also highlighted the relevance of research on E-HRM.
Mr. Haroon Kanth discussed the role of analytics and digitization during COVID'19. According to Mr. Haroon, there is a need to focus on business continuity plans for businesses in Pakistan. He added: "If we want to have a global impact we need to act and think globally, we can no longer think locally and create an impact globally."
Dr. Tasneem Fatima further added on to the topics of new research in human resource. According to her, new avenues in research should emphasize include changes in organizational behavior and human resource planning. The new norm is working from home and this has resulted in many new opportunities for people to work globally now.
Mr. Danish Raja highlighted the need for a paradigm shift among individual employees, teams as well as management, in acknowledging the changes demanded by the new work arrangement. He highlighted the importance of a change in corporate practices as well as of the need to bring about a cultural change within organizations.
The discussion ended with the conclusion that in addition to studying the themes identified during the discussion, developing trust among the academia and the corporate sector is essential in order to address the challenges of the new normal of work.