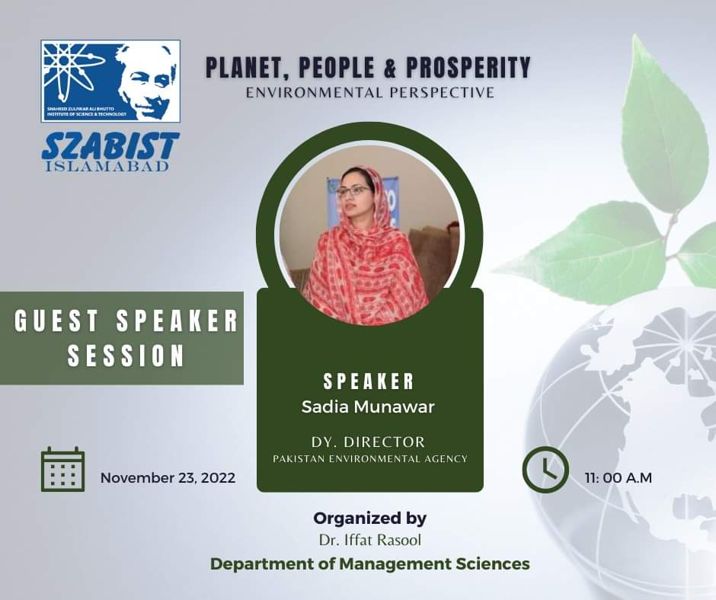 Environmental Awareness Session
Among the several challenges, climate change is one of the greatest challenges of our time and has adverse impacts on achieving sustainable development globally. The survival of many societies, and of the biological support systems of the planet, is at risk. Pakistan is one of the few countries to achieve "on track status" vis-à-vis SDG 13 on Climate Change. Despite several initiatives and successes, Pakistan remains extremely vulnerable to the impacts of Climate Change.
In view of increasing environmental challenges in Pakistan, the Department of  Management Sciences SZABIST Islamabad organized the event for the graduating students on the "Planet, People, and Prosperity- Environmental Perspective" on Wednesday,23rd November 2022. The objective of the session was to create awareness of the consequences of environmental degradation in Pakistan. The guest speaker Ms Sadia Munawar, Deputy Director of Pakistan Environment Agency Islamabad shared her valuable experience and views with students to develop their understanding of the environmental protection in Pakistan. She also urged the students to contribute to environmental protection and fight against pollution and global warming through their efforts
The session was organized by Dr. Iffat Rasool, Associate Professor, Department of Management Science, SZABIST Islamabad. The students of BBA 6, BBA 7, members of Society of Social Responsibility and faculty attended the activity. The Dean and Head of the Department of Management Sciences SZABIST Islamabad Professor Dr. M.Asif Khan awarded the souvenir to the guest speaker.