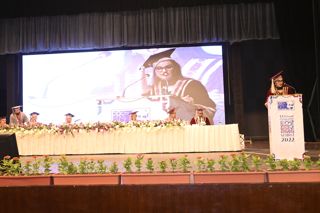 (Convocation 2022 – SZABIST Islamabad Campus – Pak-China Friendship Center)
Convocation day is considered the most significant day for every student. On the graduation day ceremony, students are awarded academic degrees and they are being praised and appreciated for more success ahead.
SZABIST Islamabad memorialized its 12th Convocation ceremony on May 18th, 2022 at Pak China Friendship Center. Where the live coverage of the event took place on a social media platform and FM Radio 106.6 managed to broadcast the live event. A total of 673 students were awarded Bachelor's, Master's, and Doctoral degrees.
Madam Chancellor Dr. Azra Fazal Pechuho declared the opening of the convocation ceremony which was followed by the National Anthem and recitation of the Holy Quran.  Senator Sherry Rehman (the Federal Minister of Climate Change) was the chief guest of the ceremony. She along with the President Ms. Shehnaz Wazir Ali, Vice President Academics Prof. Doc Altaf Mukati and Head of the Campus Mr. Khusro Pervaiz Khan presented the awards to the students and addressed the graduates with their heartwarming wishes. Academic medals were given to the high achievers of SZABIST Islamabad then the graduates took the oath which was administered by Madam President Shehnaz Wazir. The ceremony was declared closed by Madam Chancellor Dr. Azra Fazal Pechuho.
Congratulations to all the graduates!!
Picture Gallery